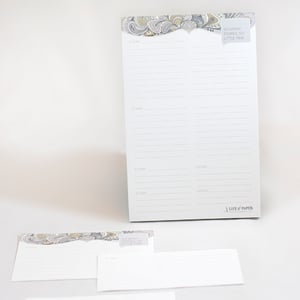 $

7.95
Have you ever tried to go shopping with the average shopping list? Two problems:
A.Between shopping organic, bulk, and specialty, you never get all you need at one store. This makes having one list confusing and almost impossible to keep up with.
B.When all of the items are jumbled together, it's hard to remember what you bought where and if you already got it. There's always something you end up forgetting.
This list solves all of that. With space to list what you plan to buy at each separate store, along with perforations to tear off only the section you need to bring inside one store at a time, you have now got a shopping list you can actually use. Simple.
5.5 x 8.5 / 50 sheets